WWW.ULTIMATECATCHCAN.COM OUR SISTER WEBSITE BEING DESIGNED

HERE IS A PHOTO OF NORMAL GDI INTAKE VALVES WITHOUT THE FUEL TO CLEAN THEM NOW.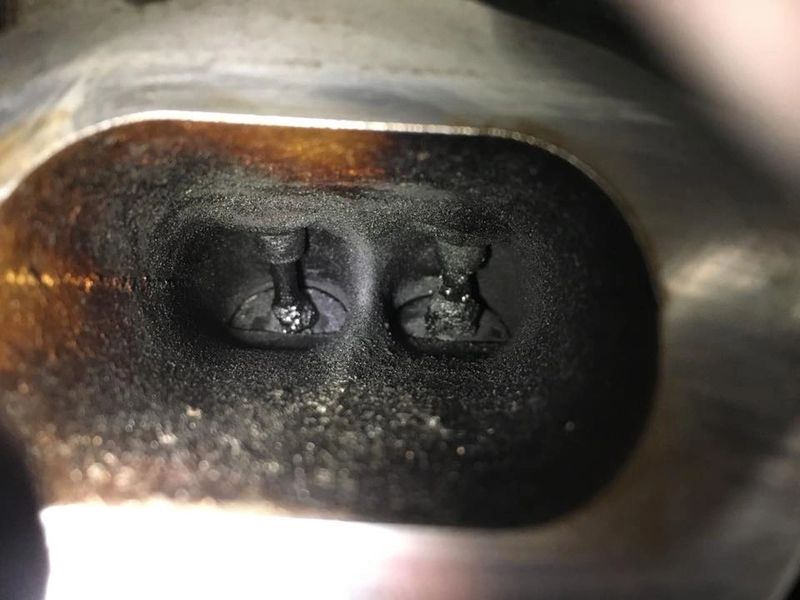 WE CAN MAKE A KIT FOR ANY CAR OR TRUCK, PLEASE LET US KNOW WHAT YOU HAVE.    
 OUR CANS ARE MANUFACTURED IN THE USA RIGHT IN FLORIDA.
PLEASE MAKE SURE YOU ARE PAYING FOR THE PRODUCT THAT LASTS.  
THE PRODUCT WE MAKE.  
WE HAVE NOW MADE THE MOST COMPLETE, IN 2020 BETTER BAFFLED, BETTER FLOWING, BETTER CATCHING SYSTEM.  HOPEFULLY OVER THE NEXT YEAR YOU WILL SEE CUSTOMERS COMPARISON VIDEOS ON THE INTERNET TO SHOW HOW MUCH MORE EFFICIENT AND COMPLETE THIS SYSTEM IS COMPARED TO OUR COMPETITION.
Carbon buildup on intake valves.
This is the big problem with most current GDI engines. Due to modern unburned hydrocarbon (UHC) regulations, vapors from the crankcase are usually vented into the intake stream in order to prevent oil droplets from escaping through the exhaust. In a port injection engine, these droplets are 'washed off' the neck of the intake valve by a relatively constant stream of gasoline droplets. In a GDI engine, the gasoline doesn't touch intake side of the valve. As a result, the droplets have a tendency to bake onto the valve and significantly reduce performance. To add to this effect, many advanced GDI engines also include exhaust gas recirculation in order to lean out the combustion mixture and reduce in-cylinder temperatures for certain combustion modes (reducing NOx emissions). Since GDI combustion has the ability to produce far more soot than premixed combustion (port injection), the problem is magnified.
Even more alarming is that these deposits can dislodge and damage other downstream components (turbochargers, catalytic converters, etc.). Manufacturers have added systems to capture these oil droplets and particulates, but no system is 100% effective. As a result, there are many disappointed early adopters with large repair bills. Even diesel engines haven't been immune to these issues.
The reason these issues have slipped through to production is that they won't show up in a 500,000 mile torture test. These types of issues will appear after years of short trips (preventing the engine from reaching operating temperature), bad batches of fuel, etc. As we approach the efficiency limits of the internal combustion engine, the engines themselves (and associated support systems) have become more complex. As with the transition from carburetors to electronic fuel injection, there will be some overlap between relatively bombproof port injected engines and the unproven, first-generation GDI engines.